Race Village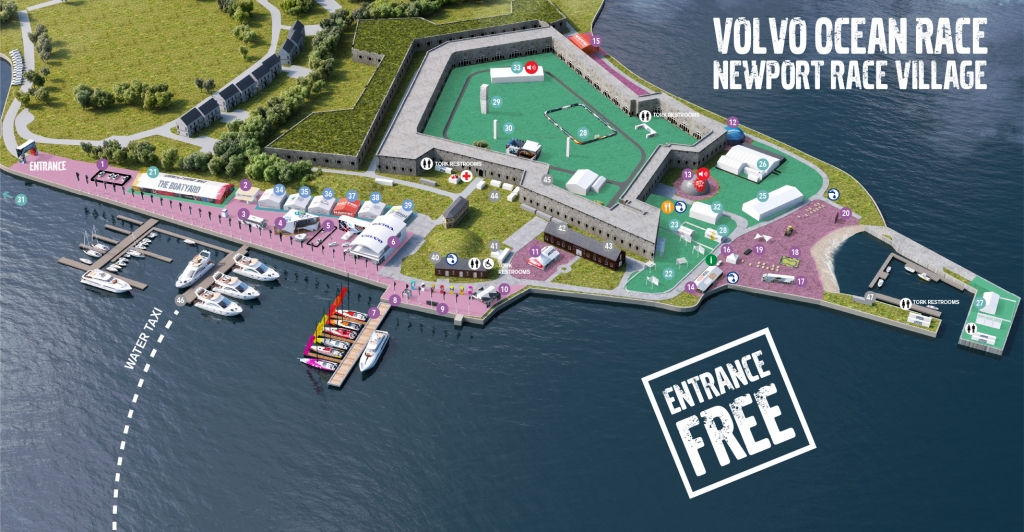 The Race Village will be open for the duration of the stopover: May 5-17. Once the boats arrive, guests will be able to see them docked at the pier at Fort Adams State Park, enjoy close up views of the racing action, and commentary of on-the-water activities, watch the operations of the sail loft, team bases and team exhibitions; experience entertainment, food, interactive exhibits for all ages, Try Sailing, watch a short film in the Ocean Theater and see race prize giving ceremonies. There will be youth sailing races and high performance exhibition sailing on both weekends. Schools are invited to visit throughout the week. Most days through May 13, the village is open from 11 a.m. to 7 p.m. From May 14-17, the hours will be extended. See The Event Schedule
The "Exploration Zone," officially opening May 9, features 22 interactive exhibits on marine life, sailing, ocean conservation, wind, water and weather experiences, and marine technology.
The action heats up May 14 through May 17 with exhibition regattas and in-port racing. On May 17, the Leg Restart Dock-Out Show, will be from 11:30 a.m. to 12:15 p.m., followed by the official Leg Restart at 2 p.m. Thousands of spectators are expected at the shore line to cheer on the fleet as they wind their way on a race course starting off of Fort Adams. Next stop: Lisbon!
HIGHLIGHTS
May 5: Race Village opens at 3 p.m. Local and state dignitaries will speak at the Opening Ceremonies at 4 p.m. The public is welcome and there should be plenty of parking, all free.
May 8, 13, 15 &16: "Dock Party" with live music featuring local bands from New England. Location near Heineken Docks.
May 16 & 17: Inside the Fort there will be zip lines, a climbing wall, a giant Jenga game, paddle boats, and obstacle course for little feet and an interactive mural. (All Free)
May 9: Exploration Zone opens and stays open through May 17
May 9 & 14: Pancake breakfast, Yoga on Mother's Day, bubble soccer (Free)
May 13: newportFILM showing of a documentary (Free)
May 9 and 14: Two concerts featuring national performers are in the final planning stages. The concerts will take place the evenings of Saturday, May 9 and Thursday, May 14, respectively. These will be ticketed events and available through the website.
FREQUENTLY ASKED QUESTIONS
Yes You Can: RECYCLE – RECYCLE – RECYCLE

There will be plenty of recycling, waste and compost containers throughout the village-please do your part and help protect this beautiful park and uphold the events sustainability goals.

Yes You Can: STAY HYDRATED

PLEASE DO NOT BRING IN SINGLE-USE WATER BOTTLES, bring your refillable bottle and make use of our filtered water stations located around the Race Village – check your map for water drip symbol.
Bring in non-alcoholic drinks – but no glass containers please – lots of little feet to protect!

Yes You Can: PARK

Parking at Fort Adams State Park will be free between May 5 and May 8. May 9th - 13th parking will cost $10, from May 14-17, parking will cost $20.

Yes You Can: PICNIC

Bring in a picnic lunch - Although there will be a Race Village Cafe with a yummy menu

Yes You Can: ENJOY AN ALCOHOLIC DRINK


Heineken, Mt. Gay Drink and Moet will be on site, but only inside the bar areas that will be clearly marked and you must have an ID with you. No one is allowed to bring alcoholic beverages of any kind in to Fort Adams State Park

Yes You Can: TAKE PICTURES


However, no drones will be allowed for the safety of the race boats and the crowd

Yes You Can: BIKE

Ride a bike in to the cycle parking area (bring your own lock)

Yes You Can: RELAX

Bring a blanket to enjoy the park
Bring sunscreen, but no umbrellas that bock anyone's view
Bring low back lawn chairs (30" or under)

Yes You Can: COME BY DINGHY

Ok to arrive in your personal dinghy, under 15' and tie up for three hours only at the Admiral's Pier, south side (Sail Newport hoist docks at south side designated area)

Yes You Can: WALK AROUND AND ENJOY THE PARK

Enjoy the park during daylight hours, but no camping is allowed
PLEASE OBSERVE AND FOLLOW THESE POLICIES
SMOKING: Volvo Ocean Race Newport encourages a smoke-free environment and asks that you respect the health of your neighbors at the event and refrain from smoking in any area where it may affect someone else. Smoking is prohibited under all tents and inside buildings. Please find an isolated area if you must smoke, and dispose of your butts properly. There is also no smoking within 50 ft of a state building-all building in the park are state buildings.
No knives or weapons
DOGS: Leave your little pooch at home We love dogs, but can't have them in the Race Village (ok in the rest of the park but not in the Race Village – reminder, it's against the law to leave animals in a vehicle)
BEACH BALLS – Who would think??? However, beach balls they end up in the bay and hurt the wildlife
DRONES:

Any use of drones/UAS in

the vicinity of any public open air event would violate Rhode Island's Uniform Aeronautical Regulatory Act (UAR) and Aeronautics Regulations, constituting a misdemeanor. RIAC is enlisting the support of the RI State Police and local law enforcement departments to monitor and enforce this law.